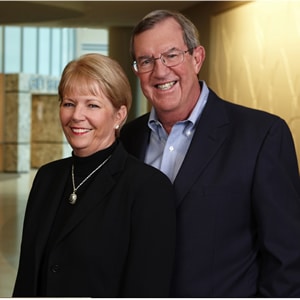 Before they moved to Tampa in 1987, Syd and Judy Heaton say they had lived in a lot of cold places, having moved every couple of years with IBM. So when Syd took over IBM's network services business, which had an operations center in Tampa, he managed to relocate its headquarters from Connecticut to Tampa. Syd retired from IBM in 1997, and now the Heaton's only travel to cold places to visit their children and grandchildren.
Every July their entire family—four children, their spouses, and nine grandchildren—gather at Syd and Judy's summer home in the North Carolina mountains to celebrate the Fourth. "It's America at its best," says Syd. "We're in the parade with all the kids in the back of a pickup truck throwing beads."
About five years ago, foundation board member Nora Musselman invited the Heatons to St. Joseph's to meet executives there and to talk about the hospital's plans. Of everything they heard, the plans for the new North hospital stayed with them. "It felt good to think about having a first-class facility within 15 minutes of our house," says Syd. They knew from their own experience the kind of care the new hospital would provide.
"Every contact we've had with St Joseph's, from admission to the labs to the emergency room, was terrific," Syd says. "Everyone was always friendly and helpful and gave us the best of attention. We were always very impressed with the experience."
The admitting center at St. Joseph's Hospital-North is named for Syd and Judy Heaton.