St. Joseph's Women's Hospital Auxiliary: Five Decades of Giving Back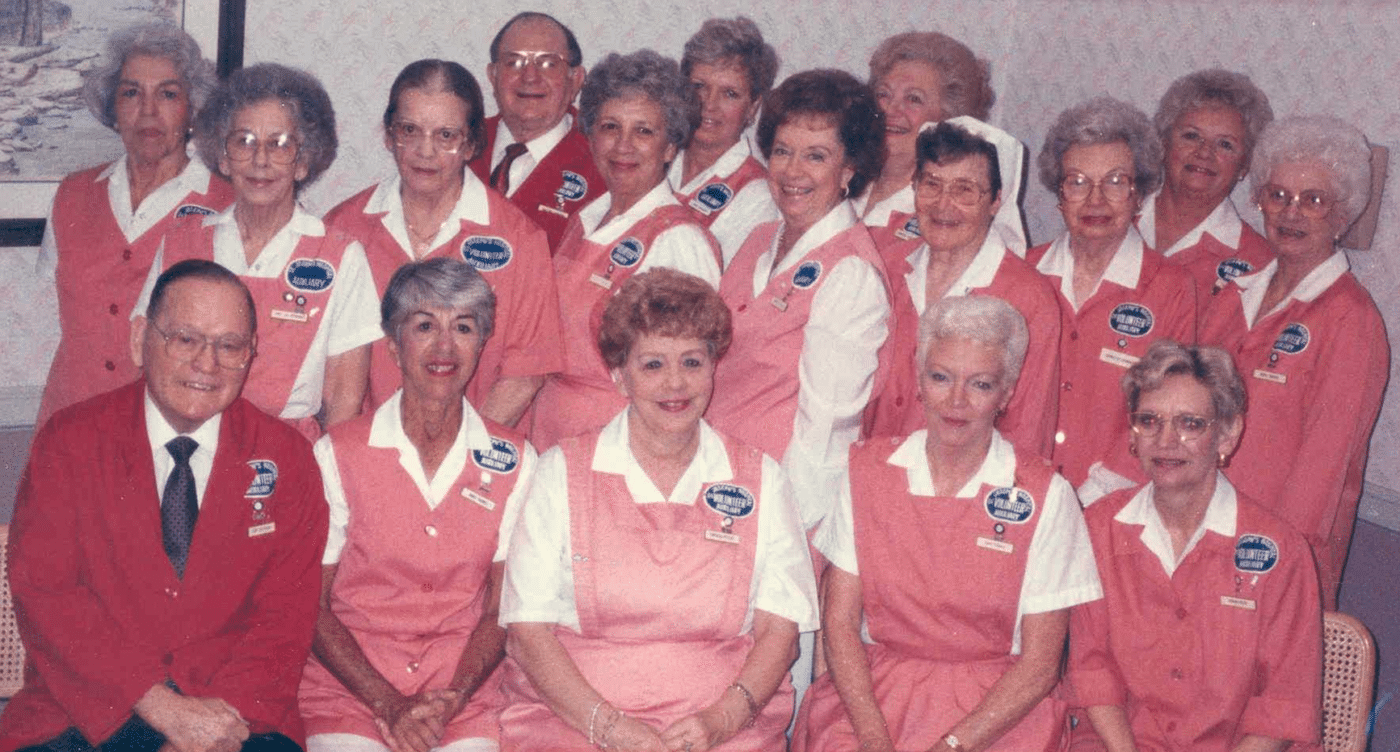 When Connie Lodato decided to volunteer with the St. Joseph's Women's Hospital Auxiliary in 2002, she was looking for a way to give back to her community. For nearly two decades Connie donated over 5,600 hours to the hospital gift shop, one of the many Auxiliary endeavors that raise money to improve the patient experience throughout the hospital.
While she knew her efforts made an important difference in the lives of so many women in the Tampa area who rely on St. Joseph's Women's Hospital for help, she didn't realize how much of an impact her altruism had on one woman in particular: her daughter Cathy.
"I would see my mom going to the hospital with a smile on her face and coming home the same way. I could tell how much volunteering there meant to her and how happy it made her," shares Cathy. "I wanted to feel that way too."
So, in 2011, Cathy followed in her mom's footsteps, since then accumulating over 11,000 volunteer hours, many of which have been spent in HER Place, a gift shop for new mothers offering breast pump rentals, supplies and much needed support. In addition, Cathy currently serves on the Women's Hospital Auxiliary Board of Directors as the Treasurer.
Cathy and Connie are part of an enduring legacy of Auxiliary volunteers who have been supporting St. Joseph's Women's Hospital – and the patients it serves – since 1974, when the first gift shop opened in a small supply closet and used a cigar box as its cash register.
Formed one month before the women's hospital officially opened its doors, the Women's Hospital Auxiliary – as it was initially known – was brought to life by Mrs. Nell Rorebeck, wife of Dr. Curtis Rorebeck, one of the four doctors who founded the hospital. Nell was joined by other charter members in creating that first gift shop, which sold donated handmade goods and used books. The proceeds from those sales completed the pledge to the hospital to furnish a family quiet room.
Fast-forward to 2022 and the boutique-style shop – which now boasts its own place of prominence and sells a variety of both luxuries and essential items – is at the cornerstone of the Women's Auxiliary philanthropic efforts. As one of the women's hospital's most generous donors, the Auxiliary has raised over $2.1 million since 2002 alone.
In addition to the gift shop, every other month the Auxiliary runs fundraisers at the hospital such bake sales and special retail events featuring scrubs, uniforms, jewelry, books, linens and other items of interest, which not only supplement their fundraising efforts, but serve as a morale booster for busy hospital staff, who enjoy the convenience of purchasing a little pick-me-up right where they work and using a simple and quick payroll deduction to do it. And when the pandemic limited the number of visitors to the hospital, the Auxiliary got creative with online initiatives and an in-store collaboration with retailers, so that they could continue to make a financial impact to the hospitals, even under very challenging circumstances.
The Auxilary's determination and dedication, even during a pandemic, has been instrumental in bringing cutting edge equipment and technology to the Women's Hospital. Most recently, a $500K pledge to the Foundation over five years starting in 2017 brought a new radiography and fluoroscopy machine to the hospital. And while the latest and greatest medical devices are always a plus, the Auxiliary is well aware of the importance of also ensuring the mental and emotional well-being of those in the hospital's care, evidenced by their $85,000 pledge in support of a 2018 renovation to the outdoor Serenity Garden which brings comfort to both patients and family members alike – just like that inaugural family quiet room.
According to Devon Polo, Manager of Volunteer Resources, St. Joseph's Women's Hospital Gift Shop & HER Place, "We continue to be blessed with passionate and enthusiastic volunteers like Connie and Cathy, so many of whom have also been part of the Auxiliary for years. Once they join and realize the impact they have on the patient experience, they tend to stay awhile."
All that passion and enthusiasm is at the heart of a long list of Auxiliary-supported projects, which have recently included $500,000 toward the construction and expansion of the NICU; $150,000 for four ventilators for the NICU; $100,000 toward the purchase of new digital mammography equipment; and over $500,000 for the renovation of the labor and delivery unit, triage area, and the surgery change room.
The devotion of the Auxiliary has been critical to helping St. Joseph's Women's Hospital fulfill its mission to its community and its patients. Currently the group, which has renewed their five-year $500,000 pledge for the 2022 to 2027 timeframe, is hard at work finalizing plans for how to allocate their generosity to ensure the best medical care for the women of Tampa Bay.
For a full list of what the Auxiliary generosity has accomplished, see below.
2005-2008
$333,000:
$100,000 Digital Mammography Equipment
$34,000 Fetal Monitors for new Outpatient Center
$49,000 3 Additional Fetal Monitors
$150,000 Ventilators for NICU
2009-2012
$500,000 New Construction NICU Tower
2013-2016
$500,000 Labor & Delivery Renovation, plus $75,500 for additional needs as follows:
2014-$42,000 MOB Pavilion Waiting Room Furniture
2015-$30,000 Additional Labor & Delivery Renovation
2016-$3,500- 14 Comfort Wheelchairs
2016-$19,500- 3 Labor & Delivery Nitrous Oxide Machines
2017-2022
$500,000 Radiography and Fluoroscopy Machine for Shimberg Breast Center, plus $92,500 for additional needs as follows:
2017-$4,000 Electronic Signage for Waiting Rooms
2017-$1,600- 100 books of "A Silent Sorrow" for parents who have lost a newborn
2017-$1,900- 7 Pack 'N Plays and 6 Mamaroos for NICU
2018-$85,000 Serenity Garden Renovation