Patient Spotlight: Overcoming Breast Cancer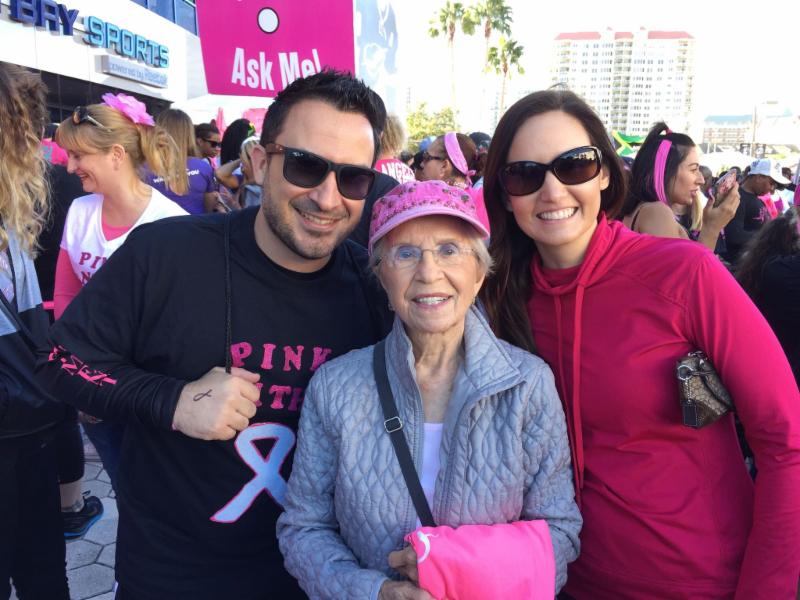 At 90 years young, Lucienne "Lucy" Stevenson can tell you from personal experience that life can be challenging. But she has never let those challenges overcome her – instead she has worked through them to make her stronger!
A number of years ago, Lucy was diagnosed with breast cancer. Thankfully, the cancer was detected early and after surgery, it appeared that the cancer was gone. After her recovery, Lucy understood the importance of having regular mammograms, especially after battling breast cancer, so she scheduled her annual appointment at St. Joseph's Hospital-South in Riverview.
Unfortunately, the mammogram revealed a new tumor, so Lucy was referred to Dr. Robert Gabordi, a breast surgical oncologist with the Shimberg Breast Center at St. Joseph's Women's Hospital. Fortunately, the tumor was detected early and after having a second surgery, Lucy beat cancer a second time!
When asked about her experience with St. Joseph's, Lucy said she received immeasurable comfort from Dr. Gabordi and his team, and when asked what she thought of Dr. Gabordi himself, she said, "He is such a caring and wonderful doctor … and human being!"
Lucy was so appreciative of the care she received at St. Joseph's, she decided to make a planned gift donation of $20,000 to the St. Joseph's Hospitals Foundation in support of the Cakes to Cure program, which was created to support breast cancer survivors, increase breast cancer awareness, and improve patient care within the breast oncology department at St. Joseph's Hospitals.
Thank you, Lucy, for your generous support of St. Joseph's and for being a courageous example to us all!