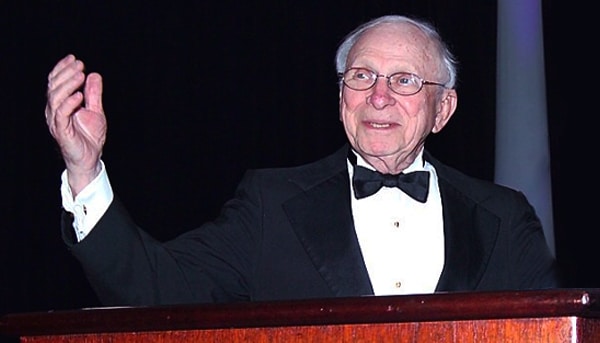 Not everyone gets the gift of time like board trustee emeritus Jean Yadley, the longest continuously serving member of St. Joseph's Hospitals Foundation.
"Credit curiosity, optimism, and genetics," says the 100-year-old not-yet-retired travel agent. Making friends everywhere he goes, his social circle spans the globe; and he has been sharing St. Joseph's Hospitals' legacy with his circle for half a century.
Yadley moved to Tampa from Washington D.C. during his stint in the U.S. Army, where he underwent radar training at Drew Army Airfield at the MacDill Airforce Base. That posting was the start of a great love affair with Tampa and where he met his wife, Ruth. Opening a parking garage in the heart of downtown Tampa allowed Yadley to meet people every day, one of which introduced him to St. Joseph's Hospital, located in Ybor City at the time.
Upon joining the board in 1972, Yadley witnessed continuous growth and expansion. He enjoys hearing from the medical specialists at quarterly meetings, where he gets the latest news about state-of-the-art technology and scientific lectures. As a previous surgical patient, Yadley understands the importance of care at St. Joseph's Hospital. "St. Joe's is in the people business, the business of making people healthy. The personal attention to my needs was almost like being at the Ritz."