Hinks and Elaine Shimberg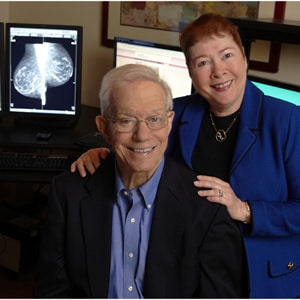 Elaine Shimberg found the lump in her breast in 1981. She'd had cysts before, but this one was different. It was small, and it hurt. She wanted a biopsy. Her doctor said they'd monitor the cyst, but Elaine insisted. "I've always been attuned to my body, and I said, 'This one's different.'" The subsequent biopsy confirmed her suspicion. Elaine had breast cancer. She was 44.
"I was frightened. My youngest child was 10. I wanted to see him, and his four siblings grow up. I was really concerned about leaving my children with them at such a young age."
Elaine had a mastectomy and radiation at St. Joseph's Hospital. Twenty-nine years later, she remains cancer-free, but memories of that time endure. To help other women who face breast cancer and to support the hospital she has come to love, Elaine and her husband, Hinks, gave the lead gift for the new Shimberg Breast Center at St. Joseph's Women's Hospital.
Breast cancer is on the rise in this country. Today one in eight women will be diagnosed with the disease at some time in their life, up from one in 12 just a few decades ago. Research has yet to confirm the cause, but many speculate it's environmental pollution. At the same time, the death rate is decreasing, primarily due to early detection and treatment. Cancers discovered at stage one, like Elaine's (2 centimeters or less in size), are 99 percent curable. Sophisticated digital mammography machines make it possible to detect cancers as small as one centimeter, further increasing the survival rate after diagnosis.
The breast center at St. Joseph's Women's Hospital has always focused on serving women whose regular mammogram revealed an abnormality, so long waits for services only prolong the anxiety of patients. "I don't think any woman who finds a lump should have to wait to have it checked," Elaine says, "and they shouldn't have to wait to have it taken care of."
The Shimbergs have been helping to educate women about breast cancer since 1978 when, through their charitable foundation, they produced a video for television on how to do breast self-examination. The controversial spot included the first image of a naked breast ever shown on television and aired in national and international markets. "We had people writing to us, saying—'You saved my life,'" says Elaine.
The Shimberg's gift to the breast center is their largest to St. Joseph's in a relationship that spans more than 25 years, starting when Elaine joined the St. Joseph's Development Council in 1982. In 1993, she joined the hospital's board and served a two-year term as its chair, and since 1999 has also served on the hospital's foundation board.
Numerous Tampa Bay organizations have benefited from the Shimbergs long-term commitment to the community. "Elaine and Hinks are an amazing role model of community leadership," said SJH Foundation president Deborah Kotch. "It's not that they give their money. They give of themselves. They set the example for their children and the community."
A gift from Hinks and Elaine Shimberg has been recognized at the Shimberg Breast Center at St. Joseph's Women's Hospital.