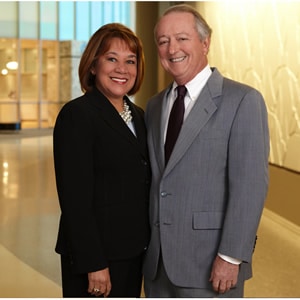 Nora Musselman has been an ambassador for St. Joseph's Hospital for more than 25 years. Sister Marie Celeste may have had unique insights when in 1983 she invited Nora to become a member of the St. Joseph's Development Council, a friend-raising group for the hospital. Since then Nora has been involved in the campaigns to build the children's hospital, the critical care tower, and the new St. Joseph's-North. She had also established and chaired the foundation's Steppin' Out Gala, which has raised nearly $4 million for the hospitals, in fact, the board elected to dedicate the eleventh gala to her. Nora has chaired the boards of the children's hospital and the development council and now serves on the boards of both St. Joseph's Hospital and its foundation and the BayCare Health System. She also has traveled to Washington DC several times with hospital administrators to advocate for children's issues.
"I can't imagine being involved. St. Joseph's Hospital is a big part of my life," says Nora.
Husband Don, officially retired from Executone Systems, is waiting for Nora to scale back her volunteering ways so they can follow their passion for travel without consulting her calendar. Despite Nora's heavy schedule, the couple has traveled around the world, taking trips with their children and neighbors to places as exotic as Bora Bora and as nearby as the Bahamas.
Nora's passion for St. Joseph's Hospital is known throughout the community, so it's no surprise that her neighbors share their St. Joseph's experiences with her. And she's continually connecting new people with the hospitals. Most recently she hosted two gatherings with hospital administrators and her neighbors to introduce them to the North hospital.
Nora traces her desire to give back to the Franciscan Sisters who educated her in Panama and to Sister Marie Celeste, who Nora says inspired her to remain involved year after year. Nora hopes to pass that passion on to her three children and her six grandchildren.
A mother/baby patient room at St. Joseph's Hospital-North is named for Nora and Don Musselman.