Caroline's Story: The Mission to Provide Chronic Care That's Always There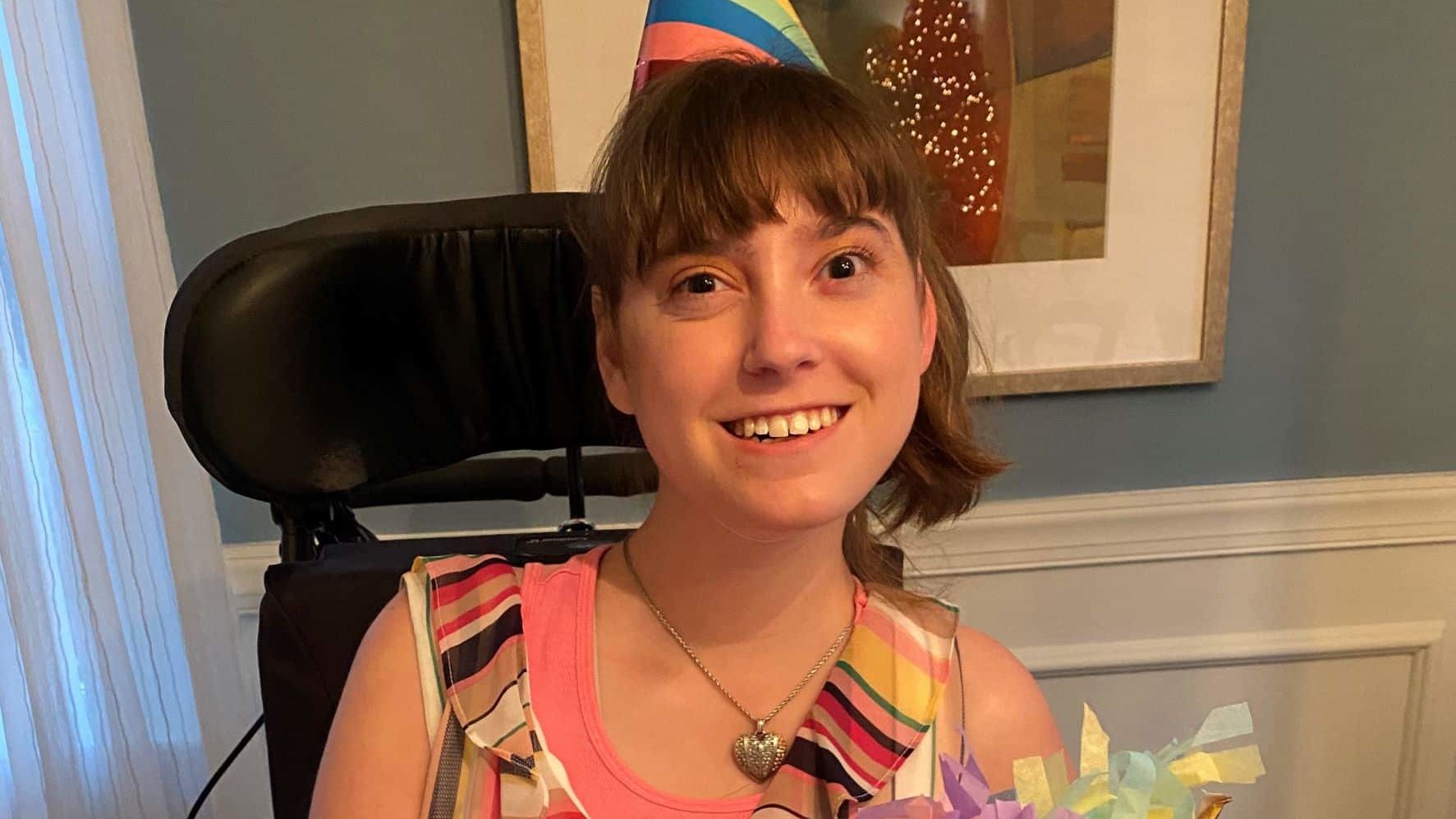 Like most parents, there is nothing Tish and Bill West wouldn't do for their 25-year-old daughter Caroline – but when your child is born with an extremely rare neurological disorder you can often feel powerless to help them.
That's why the care Caroline received at St. Joseph's Children's Hospital's Chronic Complex Clinic was a life changing.
Although she was delivered at 35 weeks there was no reason to think their baby girl wouldn't be home in a few days and they were ready to take on the challenge of sleepless nights and busy days caring for a newborn typically brings. But when Caroline had a seizure a few hours after birth it was the start of a journey Tish and Bill could have never imagined.
Test after test failed to give them any answers, but it was clear something wasn't quite right. Caroline suffered from low muscle tone, posturing dystonia, and irregular eye movements, among other atypical presentations.
"It was an extremely stressful time for us," explains Tish. "We went everywhere, all over the country, to try and not only find out what was wrong, but how we could get the treatment she so obviously needed."
On Caroline's first birthday her neurologist called with a possible diagnosis: alternating hemiplegia, a progressive neurological disorder caused by a spontaneous genetic mutation. Although the genetic testing necessary to confirm his suspicion wasn't available at that time, his research and clinical observation of Caroline left him feeling confident this was the answer they had been looking for.
And it meant Caroline's prognosis wasn't promising.
"I can't really tell you how I felt getting that news, "shares Tish. "It didn't feel real. So few children suffer from this condition that there really wasn't much information available. The only thing we knew for sure was that it was a progressive condition and Caroline would require lifelong, complex, well-coordinated medical care."
For the first eight years of her life, getting Caroline that care was a full-time job for Tish, who carried a well-worn notebook everywhere she went filled with notes, test results, and reports as she went from doctor to doctor and facility to facility trying to secure the very best options for her child.
"And then we found the Chronic Complex Clinic at St. Joe's and our lives changed. Everything we needed was in one place, and all the specialists involved in Caroline's care worked closely with one another and us. I realized I didn't even need my notebook anymore because they took the time to get to know Caroline and her situation as well as we did."
Under the care of the clinic the Wests saw their daughter flourish. Although she has limited language and mobility, Caroline found other ways to communicate – especially through her expressive eyes and contagious smile. And while her medical needs were still extensive, having everything addressed in one place simplified life so much that it left Tish and Bill feeling more relaxed than they had in years. Caroline enjoyed going to the clinic, where people knew her and hugged her and had the expertise to care for the medically fragile.
"Kids like Caroline wind up in the hospital constantly and the medical system simply can't act quickly enough to meet their needs. So much time is spent just getting up to speed on her condition and what it means in terms of how she needs to be treated. Even seemingly simple things like weighing her or feeling comfortable taking blood or checking her pressure or temperature, you would be surprised at how more complicated that all becomes. With the clinic, one phone call or visit was all it took to make sure Caroline got the care she needed, no matter the time of day."
When Caroline turned 18 the Wests knew the security of their "medical home" was about to come to an end. Although the clinic worked closely with them to find ways to best transition Caroline to a new plan of care as an adult, the reality is that a few years later Tish was once again scrambling – and carrying around a new notebook.
"I certainly knew a lot more this time around, which helped for sure, but the fact of the matter is it's a struggle to get the level of care we were getting at the clinic – and it's still needed so very much."
And it's something St. Joe's is determined to give them.
The St. Joseph's Children's Hospital's Chronic Complex Clinic was a first of its kind and considered a national model for this type of coordinated care – and St. Joe's is on a mission to ensure the 600 plus patients currently under the clinic's watchful eye can continue to have an adult version of their medical home at St. Joe's, especially the nearly fifty children who will be aging out in the coming months.
For parents like Tish, it can't come fast enough.
"Even with all of her struggles, my daughter is a really happy person – she engages with others and brings us so much joy each and every day. I know she misses the clinic. And while I am doing the best I can, and her current doctors are all doing the same, there is simply no comparison. Her care is suffering. It's a hard truth. So we need a place for these children to go where they can continue receiving the same amazing care when they become adults. It's what my daughter and others like her deserve."
If you're interested in learning more about the Chronic Care That's Always There campaign, please reach out to our office at 813-872-0979.