Care for St. Joe's Pediatric Heart Patient Galaxi Is Out of This World
At 17, Kim Guyette was diagnosed with endometriosis and told she would never be able to get pregnant. It was a harsh reality for the teen, who often spent evenings with her boyfriend, gazing up at the stars, and thinking of a future that would include kids. They'd already decided to name their daughter Galaxi, inspired by the beauty of the night skies they loved so much.
"It was tough to hear for sure," shares Kim, "but we were so young so I just kind of put it in the back of my mind and moved forward with my life."
For the Florida native, that life included working at her aunt's interior design business, which kept her professionally fulfilled. However, at 27, Kim was excited to learn she was pregnant with her son LJ.
"Not long after he was born, I started to let myself think about the possibility of having another," recalls Kim. "I didn't want to seem ungrateful for the miracle, but I was so infatuated with my little boy I just wanted to feel that same perfect love again and again."
The years passed and Kim enjoyed watching her son grow. But still she wondered, "what if".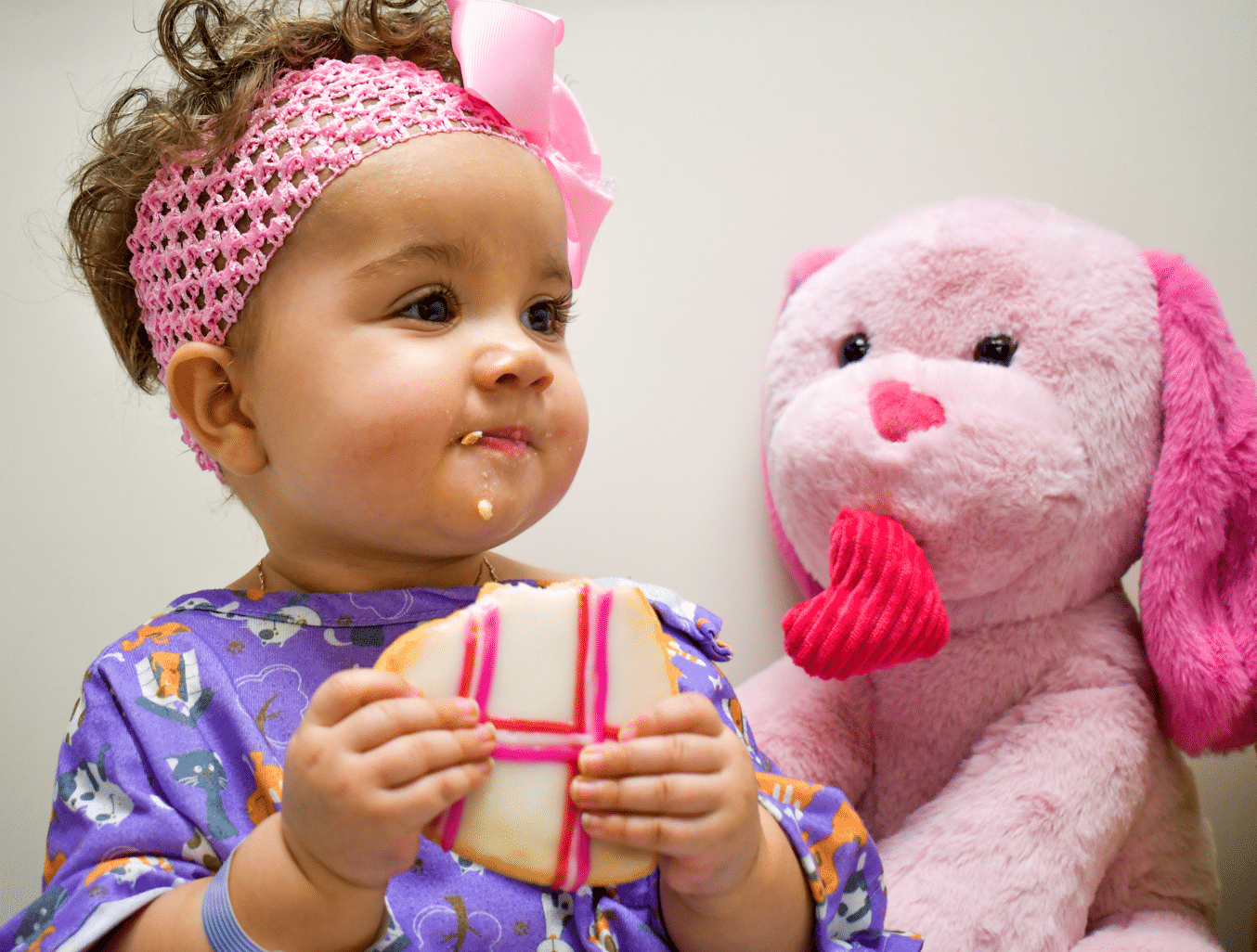 "One night, four years after LJ was born, Galaxi's dad and I sat under the stars, something we hadn't done in a long time. And we talked about our wish to have a little girl named Galaxi. And a few days later I found out I was pregnant. I knew in my heart it was a girl."
Kim's pregnancy was different than her first. She felt moody and sick. Everyone jokingly said it was because she was having a girl. But Kim couldn't shake the feeling that something else was wrong. Her baby was measuring a week or two bigger than expected but, other than that everything else looked fine, so Kim tried to shake off her concern.
Unbeknownst to Kim, her midwife had missed some important test results identifying Kim as a poly pregnancy, which meant her little girl was surrounded by nearly triple the amount of amniotic fluid.
"When they broke my water, it just wouldn't stop and I needed to have an emergency C-section," explains Kim. "It all happened so fast."
But once she held Galaxi in her arms, all her concerns melted away. She was a beautiful, and to her eyes, a seemingly healthy little girl.
Kim's relief was short-lived.
Galaxi had a large murmur and needed to see a pediatric cardiologist.
"That's how Galaxi wound up at St. Joe's. We'd actually been given the name of two cardiologists, but we are so fortunate she was treated at St. Joe's because her case turned out to be quite complicated. There are three heart defects that are common with newborns and usually only one is present at a time. Galaxi had all three.
The newborn underwent a number of tests at St. Joe's to determine if her lungs had been impacted by one of the conditions. Fortunately, they looked okay. That gave Kim hope.
The doctors decided on a wait and see approach. Often at least one of the defects resolves on its own so the plan was to reassess Galaxi's condition in a month.
"It was a very difficult month. Her little body was working so hard that Galaxi slept around 20 hours a day. I wanted so much to bond with her, but I knew she needed her sleep."
On her follow-up visit a month later the news wasn't great. One of the defects did indeed correct itself. The hole in her heart, while smaller, was still there. But the biggest concern, was the patent ductus arteriosus (PDA), which is an opening between two blood vessels leading from the heart. It was still unusually and dangerously large.
Ultimately, Galaxi needed surgery to correct it.
"It was so scary," says Kim, thinking back to the day she learned her tiny baby girl would require surgery on her heart. "And although it's a relatively common surgery, the size of her PDA made if more complicated."
Yet every conversation Kim had with Galaxi's doctors and surgeons at St. Joe's was positive.
"Every time they told me something concerning, they followed it up with detailed information and how it was all going to be okay. And the way they took their time explaining everything to me, in terms I could understand, meant I never had any questions afterward. They covered everything so thoroughly and with such gentleness that it gave me so much confidence that everything would be fine. It's a weird thing to say when your kid is facing heart surgery, but I almost stopped being worried."
Kim's trust in St. Joe's was also bolstered by the way everyone interacted with her daughter, describing how they would all hover over her as if they were caring for their own child.
"The nurses, in particular, were angels, especially as I dealt with postpartum depression on top of everything else. They were not only there for my daughter, but they were also there for me. And any time I had to leave Galaxi's room just to grab a cup of coffee, stretch my legs, or needed a moment to digest everything that was going on, I had no doubt she was in the best of hands. That was huge."
Kim's confidence was well-founded. Thanks to the experts at St. Joseph's Children's Hospital and their access to the latest technological advances, Galaxi was able to avoid open heart surgery, instead undergoing a two-hour procedure in July of 2021 where a camera was inserted through her leg allowing her surgeons to repair her heart.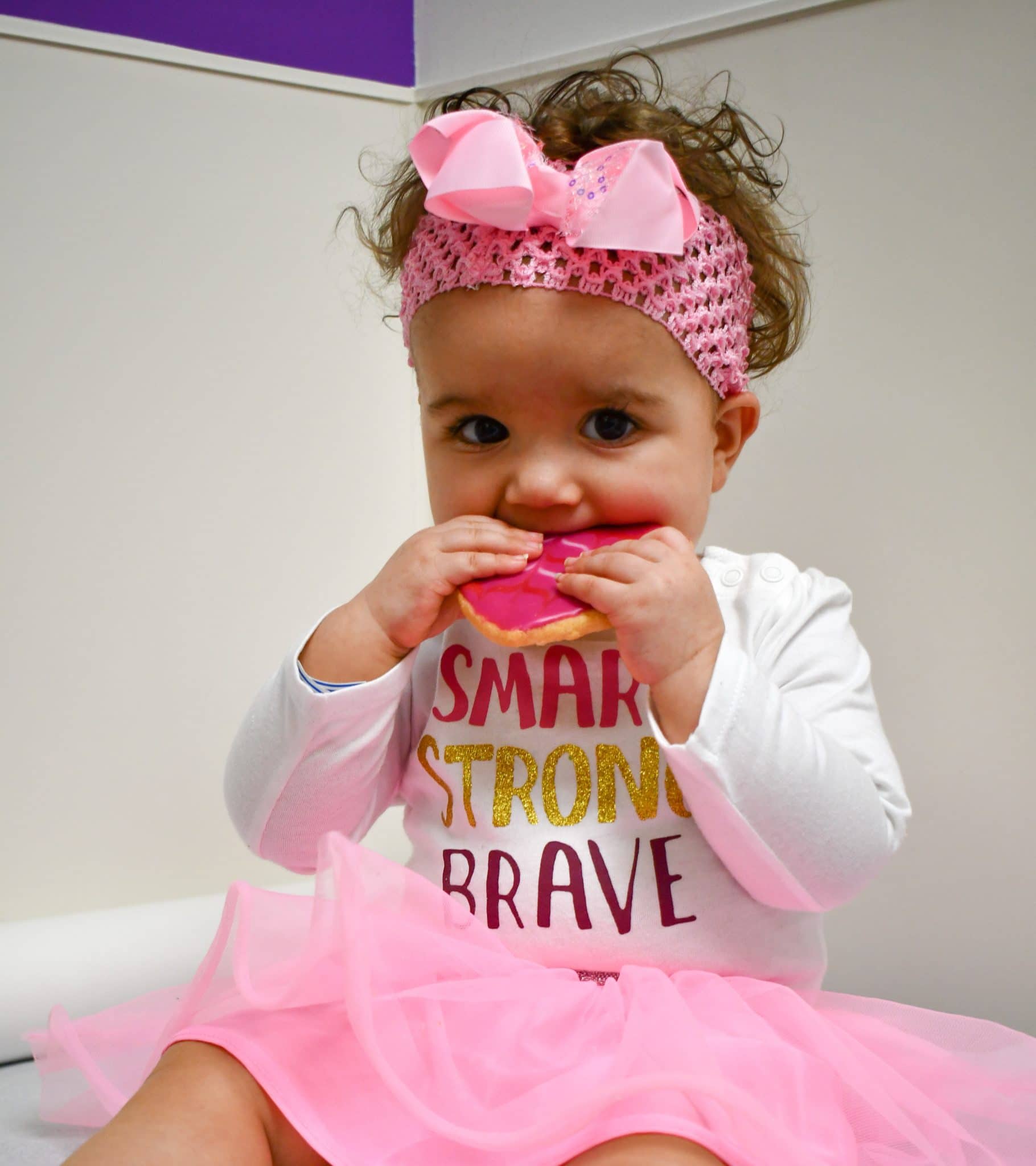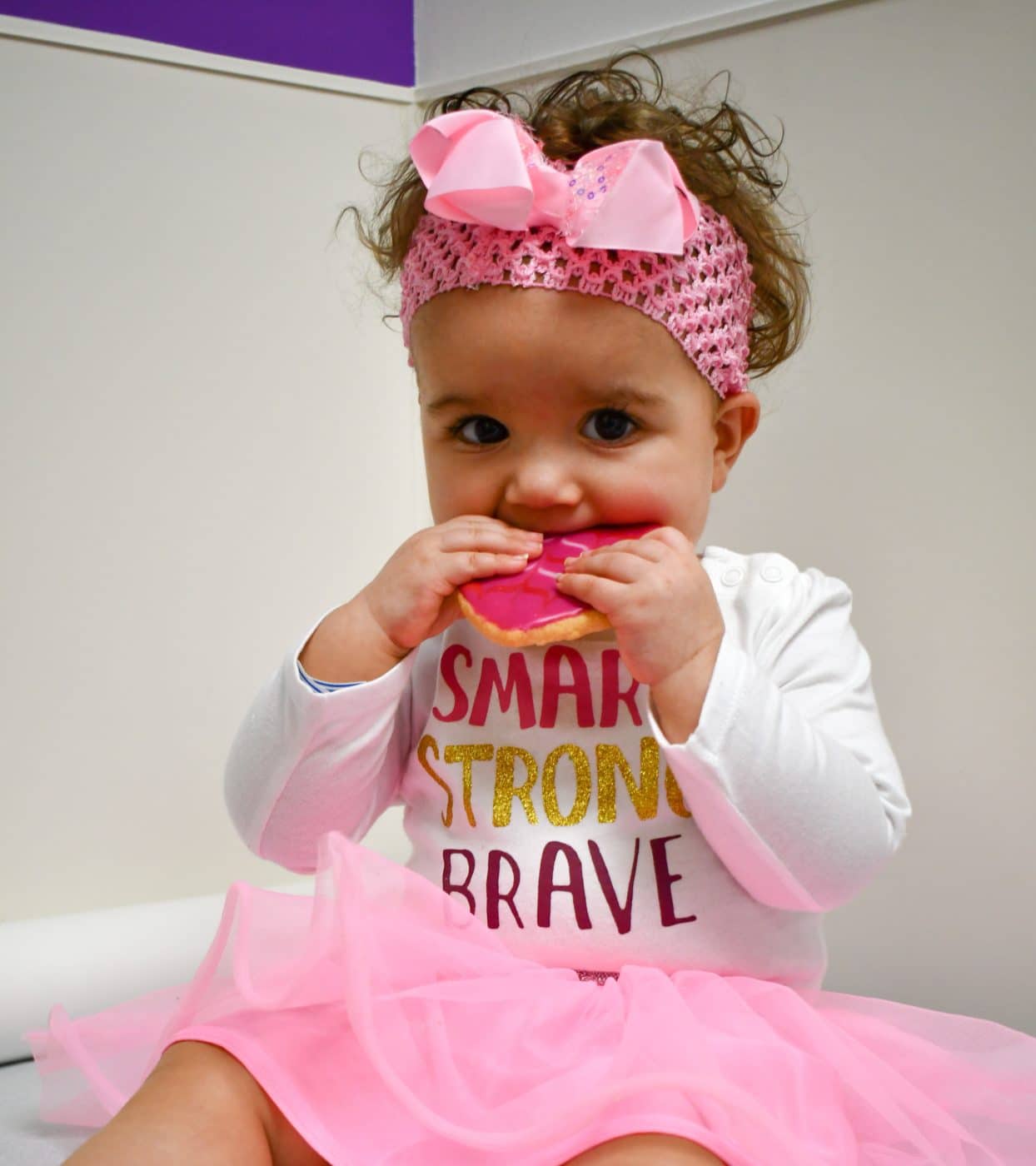 Three days after her surgery, Galaxi was home and Kim said life just started pouring out of her, a stark difference from the baby who was only awake 3-4 hours a day.
"She started growing by leaps and bounds," said Kim. "It was so wonderful to see."
She is doubly grateful because Galaxi's amazing story has made an impact in more ways than one. Because of the nature of her heart conditions, several family members, including Kim, underwent cardiac testing and discovered related issues of their own which are now being addressed.
"This journey, while difficult, may have saved even more lives," shared Kim.
Although she will may another surgery in her future to accommodate her growing body, Kim is back to focusing on life's little pleasures, like planning Galaxi's first birthday this February – Heart Month.
She is also thrilled that Galaxi will be the face of one of St. Joe's favorite fundraisers, their annual Valentine's Cookie Campaign. From February 1st to the 14th, a local Panera Bread will be selling delicious heart-shaped cookies to benefit the Patel Heart Institute at St. Joseph's Children's Hospital — and 100% of the proceeds will be going to the kids at St. Joe's.
"I am so proud to be helping however I can. My experience with St. Joe's has proven to me they will be there for us no matter what happens next, and I know they will take amazing care of my daughter. Because of St. Joe's, Galaxi is now a thriving little girl who is full of energy and brightness, just like her namesake. I can't thank them enough for making that possible."