St. Joe's Offers Innovative Treatment for Serious Brain Condition
What more can we do?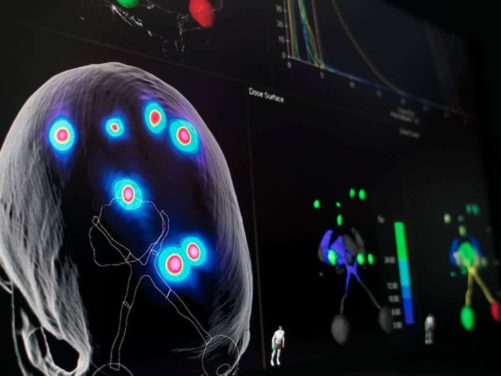 Each and every day the medical and administrative staff of St. Joseph's Hospitals ask this simple question for the thousands of community members who come to us for help, because even under the most trying of circumstances, we have never wavered in our commitment to providing all of our patients with the exceptional care they deserve right here in their own backyard.
Most recently, the answer to this question has come in the form of innovative imaging software to help treat a serious condition which affects young and old alike – AVM, or arteriovenous malformation. Commonly referred to as a brain bleed, an AVM occurs when the arteries and veins in the brain do not develop properly, making them more at risk for rupture. While usually present at birth, the condition is often not discovered until it has already occurred, or "by accident" when looking for something else. Treatment typically involves surgery or embolization, but depending on the size of the AVM, patient's other medical issues, these treatments aren't always an option, and alternatives usually aren't offered by most local hospitals.
Dr. Nitesh Paryani, one of St. Joe's radiation oncologists, had been successfully using a version of Brainlab software to treat cancerous brain tumors, so the leap to their AVM application was a logical choice. The new software allows for a quicker, more targeted but less invasive treatment of AVMs through radiation, effectively scarring the blood vessels in a way which significantly lowers the risk of bleeding.
So, when our neurosurgery team asked, "What more can we do?, St. Joe's found a way to become the only hospital in the Tampa Bay area to offer this lifesaving solution to patients with no other options. In early March, two patients – an 18-year-old boy who developed two very large AVMs and a 65-year-old woman whose medical health made surgery or embolization too risky – were treated at St. Joe's using the newly acquired software, the first of many patients who will benefit from this truly remarkable treatment right here in their own backyard. Dr. Paryani partnered with world-class neurosurgeons, Drs. Abilash Haridas and Dr. Gabriel Gonzalez-Portillo, to target these patient's AVMs and hopefully help reduce their risk of bleeding in the future.
Making sure we have access to innovative technology like the Brainlab AVM software is one of the many ways St. Joe's continues to provide an exceptional level of care for complex medical problems, ensuring that every patient who walks through our doors can get the expert care they need without the added stress of traveling hundreds or thousands of miles from home.