Arlette Jordan Found Love – and So Much More Working at St. Joseph's Hospital
When Arlette Jordan was only 15 years old, she gave birth to a beautiful baby boy. And while that certainly wasn't in her life's plan at such a young age, Arlette was determined to give her son everything he deserved even if that meant her dreams needed to take a backseat for a while. With her parents' support she got a job at a local grocery store, pursued her studies, and raised her son. She even went on to earn her college degree, which wasn't easy, but she was focused.
"It was hard, no question about it," shares Arlette. "And my dad was initially not happy about the situation – but as soon as he saw his grandson for the first time, his heart opened, and he became my biggest supporter."
That kind of unwavering love, support and acceptance is something Arlette found at BayCare and St. Joseph's Hospital when it was time to pursue a dream of her own. And after nearly two decades as a team member the delight and admiration in her voice as she speaks about the administrators, her co-workers, and everyone she encounters at St. Joe's is unmistakable.
"The values of St. Joe's – respect, trust, dignity, excellence, and diversity – I see them being lived out every single day and it makes me so proud to be part of it all."
Having held positions as varied as working for both the Chief Medical Officer and the Vice President of Clinical Excellence to her current job in the catering department at St. Joseph's Hospital, Arlette has witnessed first-hand how senior management continually advocates for both patients and team members, and how it trickles down to everyone who works at St. Joe's in every department.
"The pride everyone has here is truly uplifting – and it really makes a difference in the care our patients get."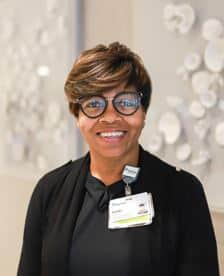 Another place it makes a difference is in the care team members have for one another. Arlette explains how when Hurricane Irma came through Tampa, the governor advised everyone to evacuate; many hospital employees had to be at work and once you are there you can't leave. Arlette wasn't required to stay but she knew the nurses would need help with their families – many of them had to bring their young children or elderly parents with them.
"I spoke to the hospital president about my plan to stay and help care for the family members of our nurses and was immediately given the okay. I coordinated the care of sixty family members from the age of 3 to 80, making sure they had food, a place to bathe, and entertainment for the kids. It was such a wonderful and meaningful moment for me. The people here genuinely care about one another and their patients."
While Arlette's fondness for her fellow team members and St. Joe's is apparent, there's likely an additional reason she feels so much warmth for the place that helped her build such a fulfilling professional life – it's also the place where she found love.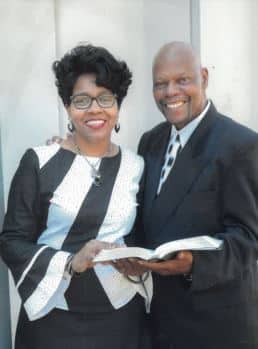 "One day I was having lunch in the hospital courtyard and out of the corner of my eye I saw a man coming down the steps. He had such a radiant presence. I couldn't help but stare at him."
Apparently, Arlette had a presence of her own – her mystery man offered a wide smile and a wave, and they soon "courted in the courtyard", as Arlette likes to say. He is now her husband.
For Arlette, it was just further proof "that really good things happen at St. Joe's" and she is excited to continue being a part of everything that makes St. Joe's special.