A Grateful Nurse's Pandemic Journey
One year after the start of the COVID-19 pandemic St. Joseph's Hospital nurse Carly Territo has two words for her community, her hospital, and most importantly, her coworkers: THANK YOU!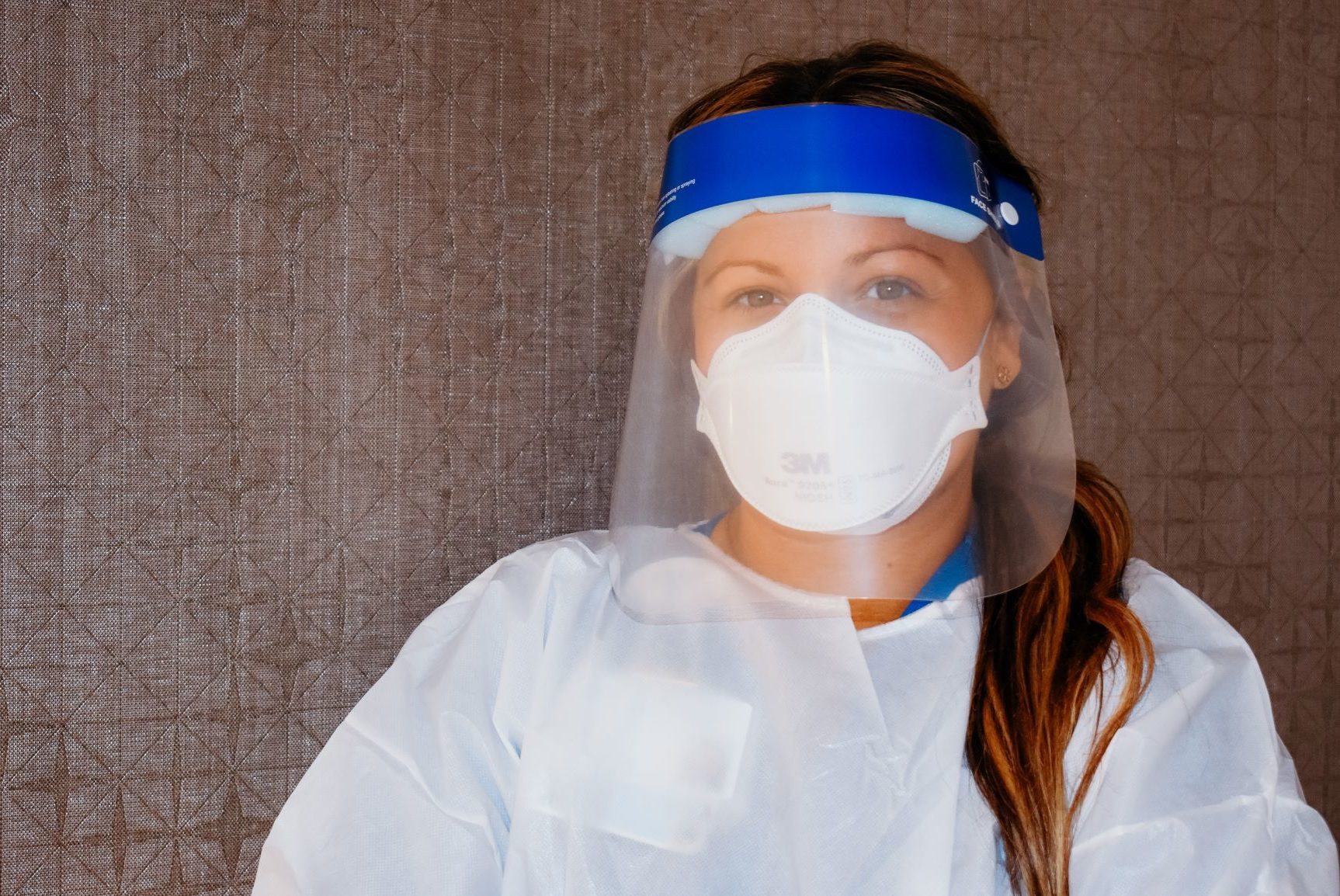 That's because during one of the most difficult times of her nursing career, what kept her moving forward was the encouragement and support of those around her.
As a Nursing Administrator and member of the Rapid Response Team, Carly was used to moving quickly to deal with crisis situations, stepping in to provide emergency intervention for a patient whose heart had stopped or making sure the hospital was prepared for whatever came their way. But she knew early on COVID-19 would present a previously unimaginable challenge.
"I think it really hit home when I was called into my director's office and we started planning for a possible surge of patients beyond the limits of anything we'd ever seen," shares Carly, whose nursing career was inspired by the care and compassion she witnessed when someone close to her was treated at St. Joe's.
"From that point on we really didn't have time to think. Providing the best care for our patients meant improvising new ways of doing things in a rapidly changing environment where even routine procedures carried new risks."
For example, large numbers of critically ill COVID-19 patients require intubation to help them breathe but doing so means a high likelihood of virus transmission. Carly's colleagues were undeterred, devising special equipment to deliver the procedure without compromising the health of their patients or the safety of the medical staff performing it.
Working alongside such ingenuity was just one of many channels of support. When staff needed a place to get away from it all, the generosity of our donors helped St. Joe's provide soothing relaxation rooms and delicious meals as a pick-me-up after long days and nights. And Carly credits the hospital's senior staff for not only keeping them all well-informed, but ensuring team members facing economic hardship, childcare struggles or health crises of their own could take advantage of grants made possible through a donor-supported emergency fund.
"I can't really describe what it was like while we were in the thick of it. Seeing a coworker lying prone on a ventilator; trying our best to comfort patients who were terrified and sorely missing the presence of their family members; and dealing with unfathomable numbers of very sick and dying patients. And always the uncertainty of what might come next lingering just below the surface. It was and is overwhelming," adds Carly, emotion evident in her voice. "But the unwavering support and camaraderie of everyone – the hospital, the community, my teammates – was bigger than the virus. It's what got me through."
After contracting COVID-19 in 2020, Carly continues to feel the effects of the viral pneumonia she developed as a result. But just like the rest of her colleagues, she goes to work and battles back the undercurrent of fear that has been her constant companion this past year because she knows no other way.
"We head into each day with one goal in mind – making sure our patients get the best care possible. No matter what COVID-19 throws our way it's up to us to figure it out," says Carly, and it's easy to believe the conviction in her voice. For example, a new role she happily took on was helping patients place FaceTime calls to loved ones, knowing that connection was possibly the best medicine she could give.
Better treatment options, more testing, and the roll-out of three effective vaccines offer hope of a light at the end of the tunnel. Still, Carly isn't ready to breathe easy just yet.
"It's hard to feel 100% relaxed. The stress is always there. But that will never stop us from doing everything possible to make sure all of our patients are well-cared for."
While Carly admits it sometimes feels odd to be acknowledged for simply doing her job, she is appreciative of everyone who helped her survive the craziness of this past year. That's why, when she thinks about everything she and her team have been though, above all the thought that still comes to mind today is gratitude.
Gratitude for being able to do a job she loves at a place she loves, for being surrounded by exceptional coworkers, and for communities that went above and beyond to show their support and appreciation. "It makes a world of difference."